Geomorphology of The Month: Formation of Tor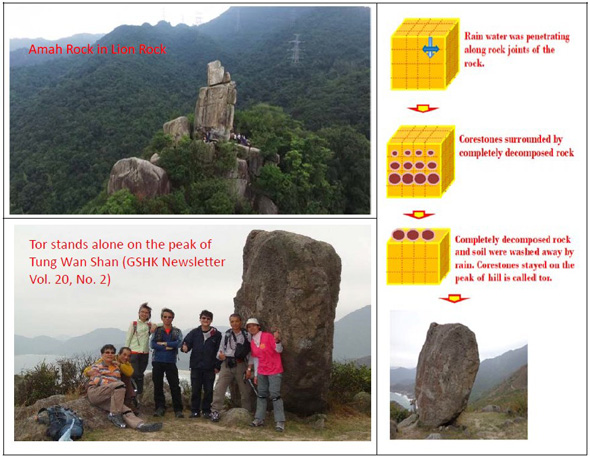 Tor is the upward projection of rock that often occur at hill summit or ridge crest. They are formed by the erosion and weathering of rock and most commonly related to granites. The surfaces and joints of rock are first exposed to chemical and physical weathering. Then, rock disintegrates to form regolith. When the regolith is stripped off by rainwater and wind, the corestones of rock are exposed as boulders and form tors.
Amah Rock is one of the famous granite tors in Hong Kong. Its shape resembles a woman carrying a child on her back. The horizontal joint of rock forms the child and the neck of mother. The vertical joints form the body of Amah Rock.
Our Society - GSHK

The Geological Society of Hong Kong is a non-profit organisation that attempts to promote geological and earth science studies within Hong Kong and the adjacent region. We organise local and overseas fieldtrips, as well as lectures. The Society publishes a journal (The Hong Kong Geologist) and bulletins dealing with a variety of earth science subjects.

---
For any enquiry and suggestion, please mail to Webmaster.

Whats New!




[The Geological Society of Hong Kong 35th Anniversary]
To celebrate the 35th Anniversary of the Geological Society of Hong Kong, I am pleased to invite you and your friends to attend our Anniversary Conference, Dinner and field trip.
The 35th Anniversary Conference and Dinner to be held on 17 November 2017 in Crystal Ballroom of the City View Hotel (23 Waterloo Road, Kowloon). There are Field Trip A & B to be held on 18 November 2017.
The one-day Conference will present Hong Kong, Asian and International experiences on the recent researches in geology/engineering geology. It is anticipated that there will be more than 150 delegates from Government, Contractors, Consulting Engineers and Suppliers participating in the Conference.
GSHK 35th Anniversary Conference, Dinner & Field Trips
GSHK 35th Anniversary Registration Form
GSHK 35th Anniversary Sponsorship Form




David Workman's Obituary


Bulletin No.12, Issue No.1, March, 2017 (Discussion on Description and Classification of Rocks of the Tuen Mun Formation) is on the shelf and ready for your reading and downloading




Newsletter Vol 22_No.2_ December 2016 is on the shelf and ready for your reading and downloading



Prof. Vincent Wong has updated the article about Namibia, Botswana, and Victoria Falls